Post by stephen on Aug 28, 2018 20:06:59 GMT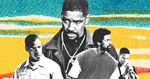 For his age at the time, Crowe was pretty high on the previous poll (21) and was arguably heading into potential GOAT territory for many. Then he just got comfortable and lost his groove after 2007 or so. Had a nice run for about 10 years, but could not sustain that intensity of a young and hungry actor (maybe that's why DDL takes enforced lengthy breaks. To never lose his intensity).
Robert Downey Jr made the last poll. Obviously becoming Marvel's poster child has hurt him with this crowd a lot. The hipster indie cred he once had has all but evaporated.
The previous placement of the now departed Brad Pitt (14!) was kind of shocking in how high he was, but again, for a brief period of time, Pitt was like Joaquin Phoenix is now for many ex- Buzzers. Worked with the right people and had a cool "artist" vibe about him because of his indie-ish choices. Phoenix is a more talented actor than Pitt, but the similarities are there. There's always a particular young-ish actor at any moment in time that this crowd falls into lockstep for, and most of the time, they fall out of fashion or favor. It'll be interesting to see if Phoenix can avoid the curse.
Oldman had a big drop. Guess people liked him a bit more when he was an oscarless underdog. Paul Giammati was a "2000's" thing, but those American Splendor and Sideways fans seem to have moved on.
But much of the list is basically the same in terms of names, just with a fair amount of ranking changes.
When it comes to Crowe and Downey, Jr. and even Penn, polls like this really do favor recent levels of skill, diversity and greatness. They tend to be far more forgiving of actors who have passed on, but if you haven't done worthwhile work in a decade (which I'd argue is pretty much the case for all of these guys; I adore Crowe's direction/acting in
The Water Diviner
but I don't know anyone else here who has seen it, and while RDJ crushes it as Iron Man, franchises tend to be looked down upon as an "easy ride" for great actors), then you might as well be dead. All three of these guys need a comeback of sorts. Downey, Jr. feels like he's creatively sapped and needs a good auteur to kick him back into high gear. Crowe's kind of gone to seed physically, but if he could latch onto quality projects in supporting roles he should find new life as a great character actor (and let's be real,
The Nice Guys
deserved the franchise treatment). Penn's weird. I feel like the Andrew Jackson project should've been a slam dunk, if it actually got made, but now that Jackson's undergoing a historical reevaluation that does
not
paint him in a good light, it might be far trickier than initially thought, and the premise of his work with Mad Mel in
The Professor and the Madman
was promising as he would be squaring up against an actor who is far more natural in his intensity, but then that project hit the skids. I don't really know where he can go from here; I prefer Penn in smaller, quieter roles, but would he actually capitulate to that?