Post by stephen on Sept 27, 2020 18:28:29 GMT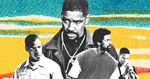 Honestly, I think the general public can
love
an actor, without considering them the
GOAT.
As incredibly well liked as
James Stewart, Jack Lemmon
and
Morgan Freeman
are by the public, I don't think they are neccesarily percived as the top 3 best actors of all time by said public. They just have an incredibly strong rapport with audiences, mostly because they are known for being hugely likable and affable onscreen. Hanks falls into that bracket. I'd actually argue that as a
pure actor,
many people in the general public underrate him. They like him for his likability and his percieved "goodness", but if probed deeper might probably admit they think someone like
Robert DeNiro,
whom they don't neccesarily admire as much, is a "better actor". But if asked whom they like more, they may say Hanks.
Hanks is definitely set as one of the most popular actors/movie stars ever, but even with the level of acclaim he's achieved, I don't think he'll ever be a wide consensus choice for GOAT. Like you said, he's not "cool" enough and never will be. To too many, he's more like your favorite harmless Uncle or Dad, not the greatest actor ever (guys like
Brando, Denzel, DeNiro, Pacino
etc have that "cool" and dangerous intense factor to be more consensus picks for that distinction, shallow as that may seem to some). Being known as the embodiment of playing nice guys will make you popular, but those are the drawbacks as well.
I mean, what really constitutes being "the GOAT"? Is it talent? That's subjective. Is it box office? Is it amount of Oscar nominations? Is it diversity of media? Is it most iconic roles? Is it most iconic films?
Being the greatest means different things to different people, and when all is said and done, if the only thing Tom Hanks lacks is being seen as "cool" and "hip" against his competition, that still puts him well ahead of most of the field anyway because the other guys have substantial hindrances to their legacies as well to some degree or another.