Post by JangoB on Dec 18, 2018 11:00:12 GMT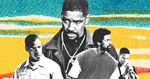 The relationship started when the girl was 16. That's statutory rape.
He did break the law, but he'll get away with it because the girl in question apparently wasn't traumatised by it, it was a long time ago
and he's Woody Allen.
Allen is a creep.
How quick you are to read the law in such a literal way as to define statutory rape - 3 months away from 17 is this or that I see. Um........
He "did" (did he?) break the law but he'll "get away with it" (how sinister) because she wasn't traumatised by it (obviously), it was a long time ago (indeed it was) and "he's Woody Allen" - No, he'd "get away with it" for one and two but not the part in bold above because no one in this story would be charged with a "crime"..........not you, not I, not Woody Allen.
Even if we disagree about movies, me and pacinoyes will always have one thing in common - defending Woody Allen against bullshit such as this.
This E! article is total nonsense starting from the headline. '
Woody Allen Accused of Having 8-Year Affair With Teenage Model
' - nowhere in the original THR 'exposé' does the lady accuse him of anything. On the contrary, she explicitly states that her goal is not to attack him. Her goddamn quote: "
What made me speak is I thought I could provide a perspective. I'm not attacking Woody. This is not 'bring down this man.' I'm talking about my love story. This made me who I am. I have no regrets
". If that's an accusation then we're truly living in a looney bin of a world.
Now, it's pretty clear that she wants publicity. Otherwise why the heck would she come out of nowhere to just tell this story when it involves nothing shocking or accusatory and is just a collection of memories of how the relationship went down - and what a shameful thing to just appear like that to reveal all the private details of one's life for attention, one of the most sickening aspects of celebrity culture. There's a pretty interesting line in the THR piece about her having written two unpublished memoirs and one of them being about Allen, and that apparently she kept them private. I guess privacy ain't an issue anymore for her.
But again, all right, whatever, there're tons of people who do stuff like that to leech their way to attention. The most important thing is that she doesn't accuse him of anything. And the E! headline tells precisely the opposite thing, completely lying.