Post by stephen on Mar 19, 2018 17:40:04 GMT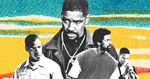 Star Wars
probably is what propelled him to that "best known and loved" label. Olivier didn't really have anything quite on that level in terms of pop culture resonance (even with his Shakespeare works). Ironically, the role that Guinness probably loathed more than any other of his is the one that cemented him as the most beloved actor of his generation.
This is very true. Things could have been very different if Olivier had gotten Brando's role in The Godfather. And Olivier was Francis Ford Coppola's other choice for the role of Vito Corleone. Technically, Olivier could have pulled it off to an extent, but it's hard to imagine without Brando. But that would have been the pop culture film to keep Olivier relevant to modern audiences, beyond being a legendary theatrical name that people keep having to be told was one the greatest.
I've seen a few interviews where even Day-Lewis seemed kind of dismissive of Olivier's acting technique, claiming he didn't "get it" and could have been a better actor if he understood the benefits of method acting. Though other times, I've seen Day-Lewis cite Olivier as an inspiration, so he seems to have a Jekyll and Hyde attitude towards the man.
It's still so bloody weird to me that Olivier (the quintessential British actor) was ever considered to play Vito Corleone. I can imagine him playing a cultured gangster in the vein of Paul Newman in
Road to Perdition
, but that's still so wildly radical from his first choice of Brando: different ages, different backgrounds, different methods, different builds, different everything save for status within the acting community. Makes me wonder if he ever actively considered anyone besides Brando, and Olivier was the name he threw out as "insurance."
By the time Day-Lewis rolled onto the scene, Olivier's brand of acting was seen as outdated and not as "cool." He was part of the generation of British actors who wanted to mold the '70s American style with British sensibilities, so he probably regarded Olivier's style as stuffy and confining (or not much of a challenge, perhaps?). But Day-Lewis has gone on record saying that he finds his method (which isn't really "method" as it traditionally is; DDL's prep style is unique in and of itself, and people who try to ape it don't come off quite as well) much easier to do than simply "switching it on/off" like the old guys could. But I'm willing to bet that Day-Lewis respected the hell out of Olivier; they even (obliquely) worked together
in The Bounty.