Post by therealcomicman117 on Jul 5, 2019 3:25:18 GMT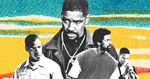 Chuck NorrisGenre: Action
There are few irrefutable facts in life. One of them is that Chuck Norris is a fucking badass! Chuck Norris is so badass, that he took one look at your girlfriend, and nine months later this chick gave birth to a bouncing baby boy.
Chuck Norris started out as a legit non-movie badass. Having black belts in various martial arts and all that good shit. None of these martial arts were good enough for Sensei Chuck, so he invented his own martial art (
Chun Kuk Do)
and gave himself a black belt in that shit, like the true badass he is.
Badasses naturally gravitate to each other, you see. It's the way of the fist! So when
Bruce Lee
first saw Sensei Chuck kicking ass in some martial arts tourney, a badass friendship was born. Bruce and Sensei Chuck became friends and trained together, thinking up ever more imaginative ways to kick the shit out of people. What a time it must have been to be alive!
In 1972, Sensei Chuck starrred as Bruce Lee's white guy enemy in
Way Of The Dragon.
But Chuck was never destined to be some disposable
gwailo.


Chucks movie career really came alive in the 1980's. While he utilised his martial arts training In his roles, he started drlifting away from martial arts specific films to general action movies. And being Chuck Fuckin' Norris, he crushed that shit.
Lone Wolf McQuade, Missing In Action, Invasion U.S.A.


Even writing the titles of those movies has given me a testosterone boost! But my absolute favorite of Sensei Chucks badass action oveure is 1986's
Delta Force,
where Chuck starred opposite another badass,
Lee Marvin.
Sensei Chuck starred as a character called
The Major,
while Marvin played a character called
The Colonel.
I'm not even making this shit up!
Anyway, what Delta Force tells us is that if he were in his prime, Chuck could have single handedly ended terrorism. I truly believe that. My favorite scene from Delta Force, where Chuck takes out some scumbag terrorists with missiles flying out the ass of his motorcycle, while going on to do a wheelie and surfing on seat of said bike to get on a plane. God bless Sensei Chuck!
Gotta admit, the whole "sensei Chuck bit" made me chuckle.
Being a bit more serious here, it's arguable Norris peaked early on in his career with those American Cinema Productions like The Octagon, that were big moneymakers. If that studio hadn't gone under so soon, who knows what would have happened to his career. Of course he also plenty of success with Canon films. The Delta Force, and Invasion U.S.A., were films that I used to watch in the morning on AMC irregularly, when I had school off. Patriotic badass.
One of my favorite Chuck Norris films hasn't been mentioned yet, is Code of Silence, which is generally considered by most to be his best period. Probably helps that it was directed by Andrew Davis, the best filmmaker he ever worked with, who also made Under Siege and The Fugitive. Unlike his other shlock but sometimes fun actioneers, it's actually a real slick and solid cop-thriller, with a supremely thrilling train sequence, which I couldn't find online, but I'll admit that I never wanted to end.
Of course as proven in this scene in Invasion U.S.A., Norris is so awesome, that he can have a one on one fight with a rocket launcher in a hallway, and win.