Post by pupdurcs on May 16, 2020 9:12:37 GMT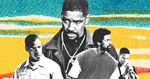 greatness
of actors, it
all counts.
Never let anyone try to convince you otherwise. Yes, their range and technical ability matters. But so does how audiences perceive and respond to you. So does how your peers rate you. So does how critics percieve you. Are you percieved as a great on film as well as stage? Can you be accessible as a presence? What's your emotional range? Are audiences equally captivated by you playing shades of light or dark etc etc
Marlon Brando
wasn't just Marlon Brando because he was a technically adept actor. There were probably technically more proficient actors than him in his era. He ultimately ticked a shitload of boxes that combined to make him a pantheon actor. Audiences were spellbound by his presence.Plenty of movie stars have that. But they aren't also equally worshipped by their peers, critics, a legendary stage performer etc etc.
It's hard to tick all or as many of those boxes as possible.
Willem Dafoe
is a talented and versatile actor, but for me, there are way too many boxes he doesn't tick for me to suddenly start pretending I believe he's a pantheon level actor, because he's the current arthouse flavor of the moment actor here (with the "daring indie vibe", as you say). And that's not meant to be disrespectful, because I know I'll still be liking much of his work when the current mini- bandwagon eventually disappears (and oh, it will!). I may not elevate him to what I percieve to be a silly level relative to what I believe he is, but my perspective that he's a very fine character actor won't change with the fickle winds.
Thanks. I know its all opinion and perception. Every actor has their own wheelhouse that they act in, some are just bigger and more popular then others. Not everyone wants to be
Brando
or
Daniel-Day-Lewis
levels of commitment, at the same time not every actor wants to be relatable like
Tom Hanks
. It's like a juggling act.
I get your
Dafoe
opinion. There is a feeling it's a bit of a "flavor of the moment" type thing, at the same time I do like the appreciation he has gotten as of late, even if I think he's really an acquired taste as a performer. At the end of the day, guess it just comes down to where you stand on his acting, and career as a whole.
I'm a dyed in the wool cynic when it comes to this kind of disproportionate elevation of well regarded arthouse performers when they are having a moment in their careers. When you see this thing happen over and over again, you know the drill and you know how it ends.
In the 1990's, because he was having a moment in his career and a darling of indie cinema, a certain type of cinephile would act with a straight face as if
Harvey Kietel (
a very fine actor, no question)
was greater than
Pacino, DeNiro, Nicholson, Hackman
and
Hoffman
combined. Kietel was working with
Tarantino
in his prime and whipping his dick out for
Abel Ferrera
and
Jane Campion!!!!
He's much more "daring" than those other guys in that period of his career and now revealed himself as the true "best actor of his generation" (that 70's generation). Look at his range!!!! He plays Maori tribesmen and gets naked!!!! Those other guys are overrated compared to Harvey because they are much more popular "movie stars". Real talk!

Of course it was fucking ludicrous then, and reality set in again eventually, and Kietel was no longer clearly better than all his generational peers, even to those discerning cinephiles who tried to elevate him way above his status, and then promptly got bored of him and moved on. He went from being claimed by some overly enthusiastic cinephilles as the single greatest actor working or living, back to being the 12th best actor of his generation or whatever he's realistically considered as. But this Johnny-Come-Lately
Dafoe
flex reeks of that.