Post by pacinoyes on Apr 12, 2020 23:43:31 GMT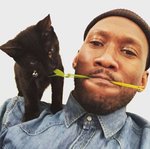 His film has a buzz (maybe undeserved, Pete Hammill BS but we'll see......), it has a distinctly strong subject in an election year, he got his welcome back nod which counts, the year will be weak which helps, his film has a December slot. Would you say Greengrass is more of a wildcard than Zeller adapting his downbeat play in his debut?.......nope.
Not saying he's a lock to win........but he makes more sense on paper - 7 Oscar nominations (assuming he gets it) and a legend at 63 is something to you know, take seriously......Hanks is an Oscar darling because he's Tom F'N Hanks.......and people think he deserved his 2 wins (I don't) so giving him 3 to them doesn't seem like a big deal I reckon.......he'll get 3 anyway and you know in a year where we could have lost him (um!)......
Not a prediction just taking a flying fnck at a rolling donut as they say in Last Tango......
A Universal exec hyping up a film to Pete Hammond is about the least trustworthy type of "buzz" I can imagine being construed. And Zeller's film at least has very strong reviews to back him. Greengrass' film is a complete unknown quantity.
I think it'll be a weak year for nominations, probably weak enough that Hanks can be nominated solely on the basis of sentiment,
but that doesn't necessarily mean it'll be weak enough that anybody can just win on likability.
A Universal exec hyping it may actually be right too and at least speaks to their commitment to it........it IS an unknown quantity but either we all say it's Hopkins or construct an alternate scenario, I'm not so convinced it's Hopkins (though he is clearly looks tremendous in this).......
I never said he would win based on likability so you need to reset the argument - I'm saying that Hanks project on paper looks baity, upbeat, in an election year it is dovetails with things culturally, he'll likely nail that part ..........AND people like him. See the difference? I mean I could say it about Oldman but I don't see the part dovetailing culturally to say Oldman etc.
Lastly, I saw The Father with Frank Langella on stage (loved it) and even I'm not sure this play translates to an Oscar winning role for Hopkins - last male winner from a play? Yeah, it doesn't happen much .......we'll see.